Training camps and seminars are a very useful means of disseminating training and fighting techniques to a large number of people, often with the help of guest instructors. We also invite people from other dojo and organisations to participate in the camaraderie of shared knowledge, experiences, and interests. We both host our own events and encourage our students to participate in other organisations' events where at all possible.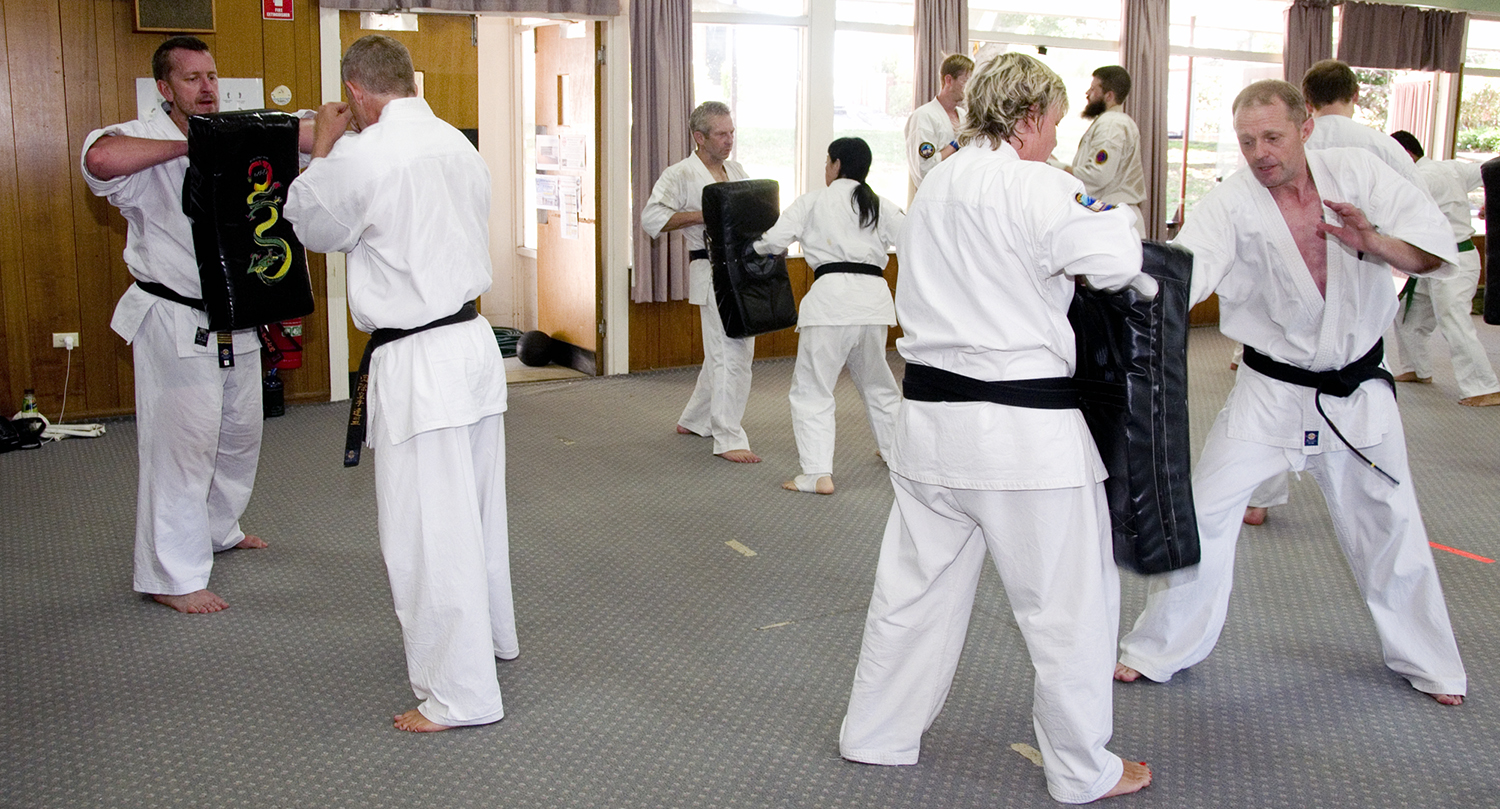 Contact training with kick and punch shields at the 2018 IFK Australia Summer Camp
IFK Australia run Training Camps. The first ran in 2003 and we've had one every year since then. We have invited instructors from other styles to come and showcase their styles for us in special sessions set aside for that purpose. From 2014-2019, Shihan David Pickthall came to lead the camps and bring us his experience.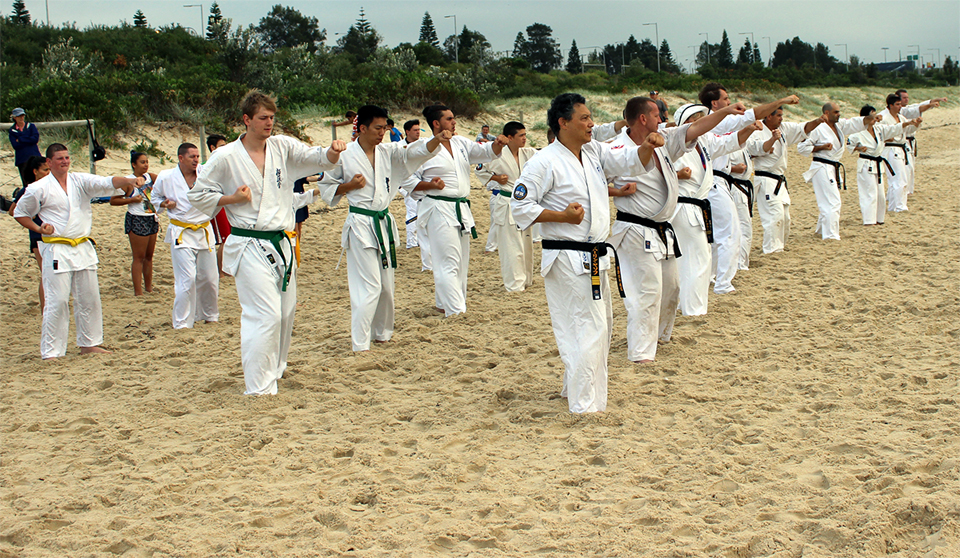 The highlight of the camp is usually the beach training where we practice techniques in the water, but also just have a lot of fun.
INTERNATIONAL CAMPS

The BKK Summer camp is usually held in August, at Felsted School in Essex. In good weather, training is conducted on this beautifully maintained English lawn!
The IFK also runs international training camps for all grades and some just for Black Belts. The BKK Summer Camp in England is the most popular one, but other countries also run their own, as do we here in Australia.
BLACK BELT CAMPS

The training hall in which the 2016 IFK Black Belt Camp took place in Holland. Note the 4 different sessions going at once - all IFK black belts.
Every few years, an International Black Belt camp is held, where over 100 black belts from around the world, ranging from 1st Dan to 7th Dan come along to train with each other and learn from the senior black belts in the IFK.
These camps are usually low cost, and are run for the benefit of the participants. Hanshi Arneil and his senior Shihans personally teach at these camps. You must however be a member of the IFK to participate in these camps.
The senior instructors from the 2016 IFK Black belt camp. From left to right: Sensei Stefano Blokland (4th Dan - Holland), Shihan Alexey Gorokhov (5th Dan - Russia), Shihan Julio Romero (6th Dan - Chile), Shihan Itzik Ashkenazi (5th Dan - Israel), Shihan Alexander Taniushkin (7th dan - Russia), Hanshi Steve Arneil (10th Dan - UK), Shihan David Pickthall (7th Dan - UK), Shihan Viktor Fomin (6th Dan - Russia), Shihan Edi Gabathuler (7th Dan - Switzerland), Shihan Janine Davies (6th Dan - UK), Shihan LIam Keaveny (7th Dan - Ireland), Shihan Klaus Ming (7th Dan - Switzerland)